The Shotokan Tiger 1935-2003
Lying within the heart of the Academy of Shotokan Karate are not only the principles, but also the spirit and legacy of one of Karate's most formidable and iconic Japanese Sensei, Enoeda Keinosuke 榎枝 慶之輔. Born in Kyushu, an island in the South of Japan on July 4th 1935, Enoeda Sensei was a strong and natural athlete who initially excelled in Baseball, Kendo and Judo. He proved to be a particularly skilful Judo-Ka and by the age of only 16 had reached the rank of 2nd Dan. However, upon witnessing an impressive demonstration of Karate by Okazaki Sensei, he immediately enrolled into Takoshoku University and channelled his energy into Karate-Do.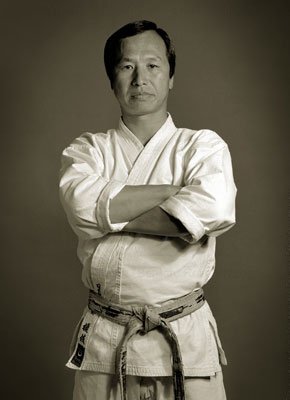 Within just 2 years Sensei was the proud holder of 1st Dan and within another 18 months had become club captain of the university's famous Karate club. Among his instructors at this time were the master and founder of modern Shotokan Karate – Funakoshi Gichin. Sensei took great inspiration from Funokoshi's advice and teachings and they contributed heavily towards his enrolment into the renowned 3-year JKA instructor class taught by Master Nakayama.
Sensei trained daily with many top instructor's of the day during a period commonly regarded as the Japan Karate Associations 'golden era'. It was the quality instruction of Master Nakayama combined with a fierce some determination that moulded Sensei into one of Japan's finest ever competitors and instructors. It was during this period, that Sensei acquired the nickname of the Shotokan 'Tora', the Japanese word for Tiger. Master Nakayama had used this term to describe Sensei's tremendous fighting spirit, awe inspiring skill and dominating ability after he achieved his goal of becoming JKA All-Japan champion in 1963.
Following the JKA's policy of sending its best instructor's to introduce Karate to the rest of the world, Sensei arrived in England on 20th April 1965. He soon began teaching full-time at the Red Triangle Dojo in Liverpool, where the quality of his instruction and the spirit he produced soon brought the club unrivalled national competition success. In 1971, Sensei was made the JKA's chief instructor for Europe and having resided in London for some years following his time in the north, 1973 saw the opening of Sensei's full-time Marshall Street Dojo. 1973 also saw Sensei perform a demonstration of Karate on live television for the BBC. This was the first British TV programme ever dedicated to Karate and even included a young Sensei Hazard breaking a large piece of Japanese hardwood before the live television audience.
Over the next three decades, Sensei inspired countless numbers of students and instructors from all over the world to achieve extremely high standards in their own practice of Karate-Do. This was never more evident than during his famous annual courses at Crystal Palace or throughout his time working with the seemingly never ending talent of the KUGB national squad. Competition success reached its peak internationally in 1990, where alongside Andy Sherry, Sensei coached the England team to a famous win over Japan in the final of the World Karate championships.
Sensei was continually devoted to the art of Karate his entire life and promoted and taught it with the highest of standards and integrity. Consequently, he wrote and co-authored many books on Karate-Do and produced several instructional videos. Among his books were a renowned 3-volume series on Advanced Shotokan Kata and a 2-volume 'Beginner to Black Belt' guide. His original videos were converted to a prestigious 5-volume DVD set in 2008 entitled 'The Master Text' and contain very significant rare archive footage including the previously mentioned 1973 live TV appearance.
Sadly, Sensei passed away on 29th March 2003 after a short illness leaving behind his wife, Reiko and their children Daisuke and Maya. A credit to the brilliance of his teachings are seen in those senior students and instructors that he also left behind, karate-ka like Andy Sherry and Dave Hazard to name but two. Chief instructor's of international associations who continue the legacy and who pass on the way of Karate as taught by Sensei himself.
Sensei was an exceptionally inspirational instructor with a larger than life personality who will forever be missed by his friends and students throughout the world where he is honoured to this day as one of the all-time great Karate master's. Masatoshi Nakayama once wrote that, "Enoeda Keinosuke has a reputation for achievements that stir the imagination, and through his students and these achievements he will continue to pass on the way of Karate."